Oil Free Screw Compressor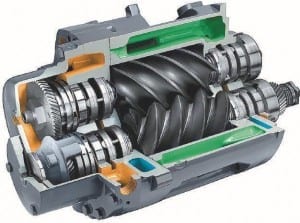 Twin screw shaped meshing rotors are mounted in a figure of eight shaped housing, which has suction and discharge ports at either end.
As the rotors turn they form a space that traps gas, the space travels down the length of the housing, and because of the profile of the screws, is compressed as it goes.
Due to no lubricant in the compression space, timing gears are employed to ensure that the two rotors do not touch.
Typical Performance Envelope
 
Imperial
Metric
 
Minimum swept volume
120 cfm
200 m3/h
 
Maximum swept flow
60,000 cfm
100,000 m3/h
 
Maximum casing pressure
750 psi
52 bar
 
Maximum pressure ratio
4
 
Advantages
Flow controllable by speed variation.
Vibration free operation.
No special foundation required, lowering civil costs.
Pulsation free gas discharge.
Valveless porting means no drop off in efficiency between overhauls, and no valves to maintain or break in service.
No oil in contact with gas.
Resistant to damage by particulate.
Disadvantages
High capital cost.
Low pressure ratio per stage, but can be mounted in series.
Common Applications