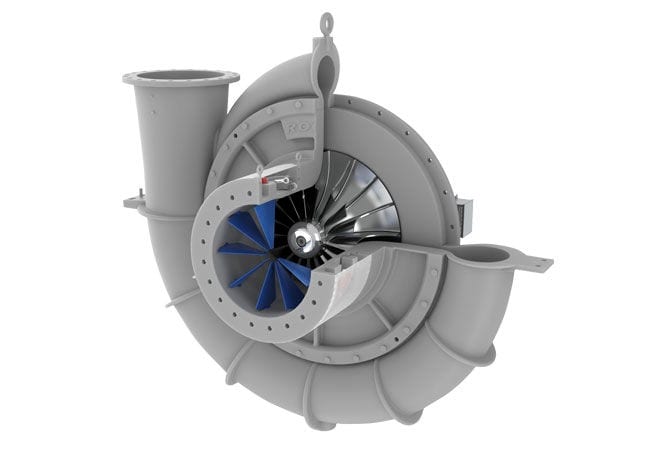 An impeller is attached to a rotating shaft within a cylindrical housing. Gas drawn into the housing near the centre, is then thrown towards the perimeter.
The imparted velocity of the gas causes a pressure rise and flow. Multi-stage machines direct the gas back to the centre of the next stage. Differs from centrifugal blower in that pressure containment housing is much stronger.
Two main layouts are Integrally Geared type, where several stages are mounted radially on a central speed increaser gearbox, and Barrel type, where stages are all mounted on a single shaft.
Typical Performance Envelope
 
Imperial
Metric
 
Minimum swept volume
10,000 cfm
17,000 m3/h
 
Maximum swept flow
180,000 cfm
300,000 m3/h
 
Maximum casing pressure
2,200 psi
150 bar
 
Maximum pressure ratio
4
 
Advantages
High efficiency.
Vibration free operation.
Pulsation free gas discharge.
Valveless porting means no drop off in efficiency between overhauls, and no valves to maintain or break in service.
Flow control through inlet guide vanes.
Very long maintenance intervals.
No lubrication oil in gas.
Disadvantages
Noisy. A sound enclosure is normally required.
Common Applications
Natural gas distribution
Air separation
Steel plant gases