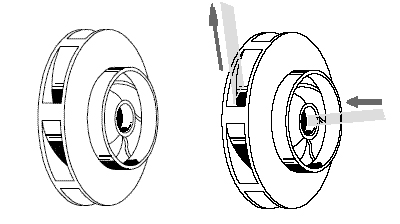 An impeller is attached to a rotating shaft within a cylindrical housing.
Gas drawn into the housing near the centre, is then thrown towards the perimeter.
The imparted velocity of the gas causes a pressure rise and flow.
Multi-stage machines direct the gas back to the centre of the next stage.
Typical Performance Envelope
 
Imperial
Metric
 
Minimum swept volume
100 cfm
170 m3/h
 
Maximum swept flow
40,000 cfm
70,000 m3/h
 
Maximum casing pressure
30 psi
2 bar
 
Maximum pressure ratio
2.2
 
Advantages
Slow speed of rotation gives exceptional wear part life.
Single rotor is only moving part.
Oil free gas path.
Vibration free operation.
Flow control through inlet throttling and speed control.
No special foundation required, lowering civil costs.
Can usually be direct driven – doing away with belts or gearboxes.
Pulsation free gas discharge.
Valveless porting means no drop off in efficiency between overhauls, and no valves to maintain or break in service.
Simplicity: units are readily overhauled in the field without special tools.
Efficiency is good on the larger flow machines.
Quiet operation – often no sound attenuation is required.
Disadvantages
Lower efficiency on smaller flows.
Higher capital cost on positive displacement blowers.
Low maximum casing pressure.
Common Applications