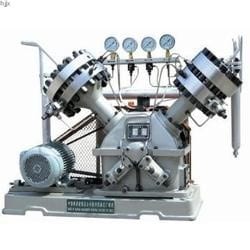 Based on a reciprocating compressor frame. In place of conventional cylinders, is a saucer shaped stainless steel head, inside of which is a thin stainless steel diaphragm. The diaphragm oscillates up and down, powered by oil that is in turn pushed up and down by the piston.
Gas is drawn in to the top of the head, and pushed out, in a similar manner to a reciprocating compressor, by passive poppet valves. The diaphragm totally insulates the gas stream from the mechanics and lubrication system, and so is often specified for hazardous or poisonous gas applications.
Typical Performance Envelope
 
Imperial
Metric
 
Minimum swept volume
6 cfm
10 m3/h
 
Maximum swept flow
1,800 cfm
3,000 m3/h
 
Maximum casing pressure
15,000 psi
1,000 bar
 
Maximum pressure ratio per stage
20
 
Advantages
High efficiency.
Very high pressures possible, with multiple stages.
Resistant to corrosive gases and particulate.
Totally oil free, with no possibility of lubricating oil contaminating gas stream.
Leak free.
Disadvantages
Regular maintainance requirement.
Fixed speed – not easy to control flow.
Out of balance forces mean a special foundation may be required.
Complicated – many moving parts.
Efficiency drops off between overhauls.
Common Applications
Vehicle re-fueling
Poisonous gases
Hazardous gases
Gas storage